Historic setting with modern amenities
The most peaceful night's sleep in our beautiful rooms.
The spacious bedrooms in the 19th century log framed manor house provide a good night's sleep.
There are four bedrooms downstairs and an attic room that can accommodate a total of 10 people. In addition, the library room has a comfortable sofa bed that turns into a double bed. During the summer, another attic room with no heating is also available upon request.
The upstairs bedrooms are not suitable for those with mobility restrictions or children, as the stairs are very steep.
The bedrooms are full of era's features, but are provided with modern quality mattresses, duvets and pillows.
Accommodation is on self-serve basis. Bedlinen and towels are not provided. If you require these, they are available at an extra charge – please mention this when making your booking!
The manor house has a fully equipped kitchen, where guests can cook their own meals. The equipment provided includes an electric stove, fridge and freezer, microwave oven, dish washer, electric kettle and a two pan coffee maker.
The cutlery, plates and glasses provided are enough for a party of 48 people.
The house facilities include two bathrooms with toilets. One of the bathrooms has a shower stall. The second bathroom is connected to the sauna, and it has two showers and a jacuzzi.
Request to use the sauna should be made when making your accommodation booking.
The guest will be responsible for cleaning the house before leaving. Cleaning services are also available at an additional charge, request for these services should be made when making your booking.
The wood burning kitchen stove and the small open fireplace in Pirtti may be used by guests. If you want to use them during your stay, please request this as make your booking.
Please see the links for a checklist of our house rules and the pricelist:
The stable can be used for accommodating both dogs and horses
The Hirvaskoski manor used to be a horse farm. The stable is available for guests to book as accommodation for horses or dogs.
The stable has excellent lodgings for eight horses as well as storage space for equipment. The grounds offer good space for exercising dogs and horses. There is an approximately 1,3 km sand covered exercise path as well as yard for riding. There are quiet roads in the village for riding and driving with a cart.
The smaller of the two horse stables, has gotten a new life as a kids' wooden horse stable during the summer. It is also used as a residence for the Manor's Christmas elves in the winter.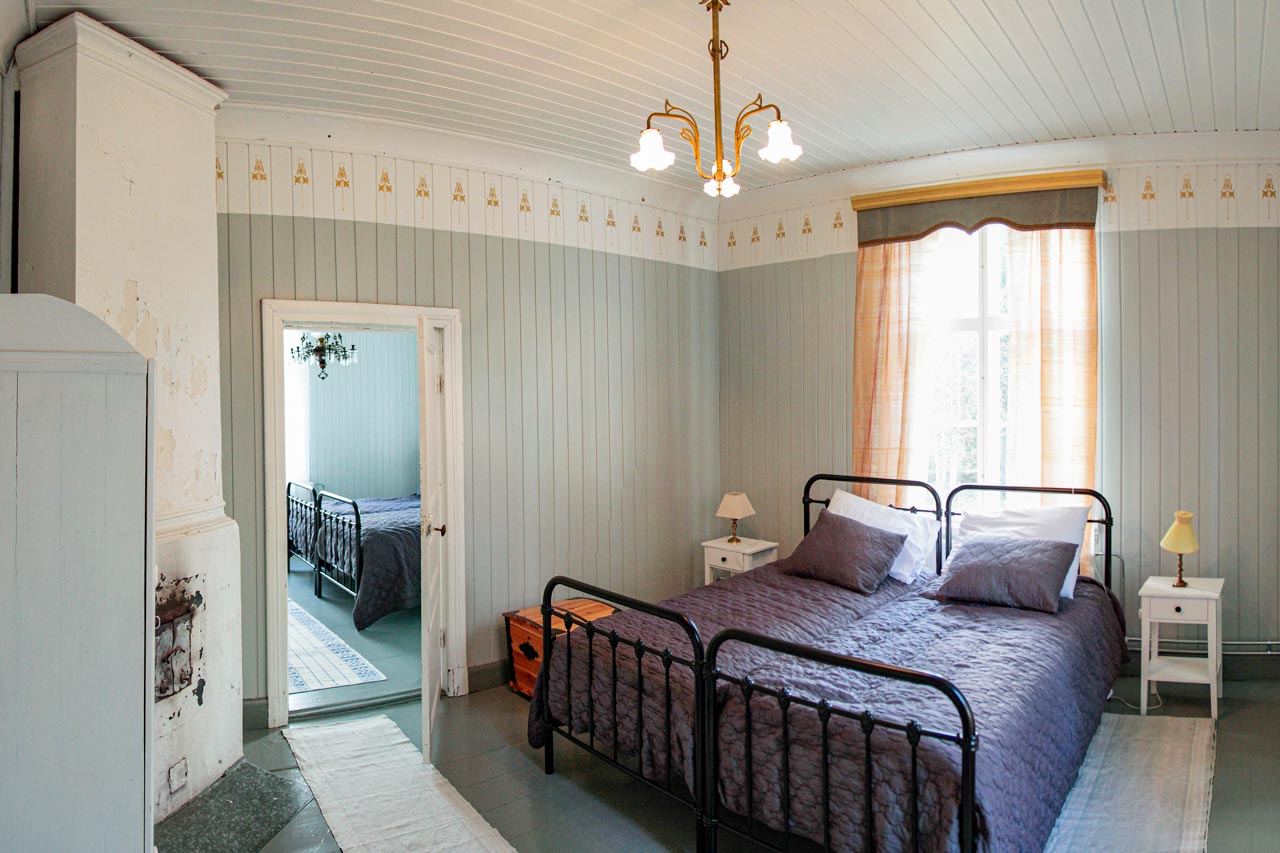 Bedroom equipment
Two beds with spring mattresses in each bedroom
Nightstands
Pillows, blankets
By request / additional cost
Heating of wood burning stoves
additional mattress
Kitchen equipment
Electric stove
Refridgerator
Freezer
Microwave oven
Dishwasher
Electric kettle
Coffee maker (dual)
Electric mixer
Kitchenware
Complete dishes for 48 people
General equipment
Piano
40″ TV / computer screen
Washing machine
Ironing equipment
Cleaning equipment
Showers in bathrooms
Hair dryer
By request / additional cost
Using the wood burning kitchen stove

Bedlinen and towels
Tablecloths for events
Decoration for parties / events
Equipment for activities
Two kayaks with accessories (at a fee) by request